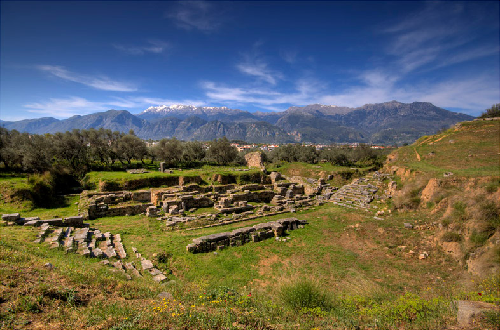 sparta ancient theatre
Historic data :
Excavation began in 1906-10, continued in 1924-8 under A. M. Woodward and recommenced in 1992 with G. B. Waywell and J. J. Wilkes directing a University of London team.
With a Cavea width of 114 meters and an Orchestra diameter of 29,55 meters the theatre has been
described as the largest in Greece, after Megalopolis, able to host 10.500 - 13.000 spectators. Below the diazoma were ten radial staircases, above it no fewer than seventeen. Pottery found under the upper cavea suggests a construction date around 30-20 BC. The theatre was in use till about the end of the 4th century AD, with early and late Byzantine reoccupation to the 13th century.
In the latest (1997) excavation season a trench was dug across the west parodos at the end of the late Roman nymphaeum excavated in 1927. Evidence was found for the channelled blocks which may have served as a runway for a moveable stage in the earlier (1st century BC) phase of the theatre. Further work was carried out in 1998.